How Wholesale Nursery Services Can Help Your Landscaping Business Grow
Texas is big on landscaping. Many residential and commercial properties need landscaping services. As a business owner, this means more opportunities to expand your business. However, since competition within the landscaping industry is fierce, you need every advantage you can get, which is where we at Newton Nurseries can help. Offering an array of services that other wholesale landscape supply companies can't match, we can help you take your business to the next level and speed past the competition. If you're eager to know how to grow a landscaping business and why partnering with us here at Newton Nurseries will be one of the best decisions you'll ever make as a business owner, here's everything you need to know. 
What is a Wholesale Nursery?
As a business owner always looking for a competitive edge, you know every dollar counts when it comes to your bottom line. One of the best ways to cut costs in a business is by saving time. We also understand this here at Newton Nurseries, which is why we have successfully worked with landscaping businesses across Texas in Houston, Katy, Spring, and Austin over the years. We save you time by having you in and out as fast as possible, with the fastest checkout in the industry. And by saving you time, we're shaving dollars off your bottom line.  
One of the most significant differences between a retail nursery and a wholesale nursery is that you are on your own at a retail nursery. There is no one there to help you pick out the plants you need or someone to recommend options for your clients. At a wholesale nursery, expert horticulturists are available to help you make these decisions.  
Plus, wholesale nurseries 
consistently offer higher-quality products picked directly from growers. At Newton Nurseries, this is always Texas growers first. Your customers will be satisfied with their plants and trees, so you don't waste time replacing damaged products.  
Additionally, the variety of products offered is much more comprehensive, including hard-to-find plants, exotic plants, large trees, and other landscaping supplies necessary to run a business. And you don't have to worry about stock running out when working with a wholesale nursery; we can source any plant material for your commercial or residential projects.  
Unlike a retail nursery, where plants sell at a markup, plants at a wholesale nursery, such as Newton Nurseries, are sold considering your landscaping needs and your customer's needs. That means your Newton Account Manager can price your product list specifically for your project, so you have the best value, meet your customer's expectations, work within the budget, and turn a nice profit per job. And when you work with a wholesale nursery, you get all these benefits without spending more money. 
What Does a Wholesale Nursery Offer?
While almost all will offer plants in bulk, the wholesale nursery's services will vary from nursery to nursery. Some provide additional services such as help loading products, delivery, logistics, access to horticulturists' expertise and advice, and others.   
If your goal is to grow your landscaping business, then it's crucial to partner with a wholesale nursery that offers not only high-quality plant material but also offers additional services to support your goals. This decision ultimately comes down to understanding your business, having industry expertise and plant knowledge, and outstanding customer service to help you succeed in your landscaping projects. 
At Newton Nurseries, we pride ourselves on treating our customers like family, taking their businesses and profitability seriously. We offer multiple services to support you and your business, whether well-established or brand-new. We will put our more than 40 years of experience to work for you so that you will know the true meaning of excellent customer service.  
So How Can Wholesale Nursery Services Grow My Landscaping Business?  
Expert Advice & High-Quality Plants Offer A Competitive Advantage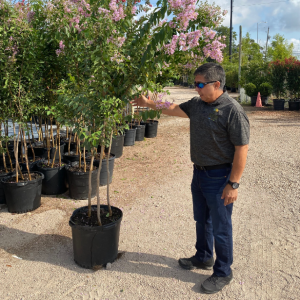 Here at Newton Nurseries, plants are our business and our passion. In fact, our team is comprised of tenure buyers and horticultural professionals. Because of this, when you ask us a question, you know the answer you are given is coming from an expert who knows the ins and outs of all types of plants, trees, shrubs, and much more. Whether you want to gain additional commercial clients for your business or have a homeowner with a unique project in mind, we at Newton Nurseries can give you trusted advice and services you can't find anywhere else. 
Because our goal is to help you turn your landscaping business into one that is very profitable, we make quality control of our plants a top priority. All plants selected for our nursery must meet strict guidelines regarding beauty and quality, ensuring you'll get only the best for your business and customers. 
We also carry a wide selection of products that can be used for even your most complex landscaping projects. This can be a great way to help grow your landscaping business since you'll have access to unique and decorative items for residential landscapers that your competitors may know little if anything about and core products for your commercial jobs.  
Concierge Services Save Time & Money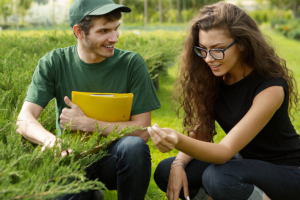 At Newton Nurseries, we offer concierge services so that you feel supported every step of the way. These services allow you to fulfill your landscaping projects successfully by finding the right plants of the highest quality, all within your time and budget expectations. Once you partner with us, you'll have an Account Manager who will become your go-to person for whatever you need for your business. Whether biding for landscaping projects, placing orders, sourcing plants from various vendors, or helping you manage the logistics of the most complex landscaping project you've had yet for your business, we'll be there to help you every step of the way with our Concierge services. 
In today's world, your customers often want the best landscaping services for their homes or businesses but are likely working on a tight budget. We can help you meet your project budget and customer's expectations by providing you with top-notch plants at competitive wholesale prices. Once your business gains a reputation for being a landscaping company that does excellent work at competitive prices, you'll have a steady stream of customers. 
Will Call & Delivery Make Business Easier Than Ever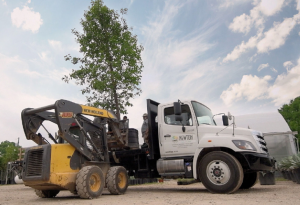 Whether it's on your smartphone or the computer at your home or office, you can easily browse our products and prices, find detailed information about various plants, learn about specials for your business, and even show your customers at a job site pictures and info about multiple plants without the prices being visible. Once you know what you need, you can call in your order in advance and pick it up yourself, or choose to take advantage of our delivery service that can bring even the largest of trees and other plants directly to your job site. 
We make it easier than you ever imagined to select the proper plants for your landscaping projects and get them picked up or even delivered to your job site. Unlike many wholesale nurseries that have been slow to embrace today's latest technology or shun it all together, we at Newton Nurseries know this is a great way to help our customers.  
Being able to call in your orders in advance and even arrange for delivery if needed means you can get started much sooner on your landscaping job. As a business owner, you know time is money, so the more jobs you can schedule and complete, the faster your business will grow. 
Sourcing Services Allow For Unique & Beautiful Designs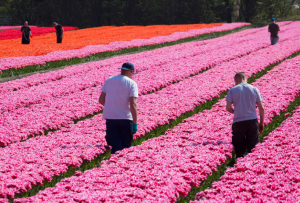 Something that differentiates Newton Nurseries from other wholesale nurseries is our knack for always having those hard-to-find plants in stock and ready to be purchased by business owners like yourself or your team. Our buyers are always out there visiting new and established growers, looking for that next unique plant or tree that will be in high demand each season by residential and commercial landscaping customers throughout Houston, Austin, and elsewhere in Texas. 
By taking advantage of our Sourcing services, you will soon have a landscaping business that becomes known for having the ability to create some of the most distinctive and beautiful landscapes found in the Lone Star State. If there is one thing we take pride in here at Newton Nurseries, it's our ability to find growers that are offering high-quality plants consistently and others out of state that can provide us with products that are rarely found here in Texas. As you work with us, you'll have the ability to offer a wider selection of plants and trees to your customers, giving you a competitive advantage on top of the best quality plant material consistently available for your commercial jobs.  
Direct Sales or Dropshipping Unlock A World Of Opportunities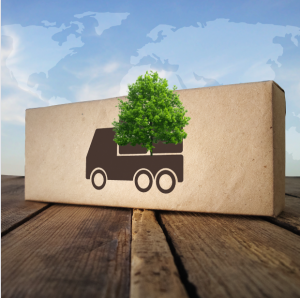 More and more landscaping companies that work with us here at Newton Nurseries have started to take advantage of our Direct Sales or Drop-shipping services. Doing so means you can gain access to hundreds of plants and trees, purchase them, and then have them shipped directly to your job site. A service you will rarely find at any other wholesale soft scape supply nursery, this can allow you to plan ahead your projects without worrying about the complex logistics and proper timing. It saves you time and money to have our team managing this process for you in Houston, Katy, Austin, Spring, and all their surrounding areas, or even expanding your reach to San Antonio, Dallas, Corpus Christi, Galveston, and additional Texas locations.   
Various Locations & Expanded Hours Make Your Life Easier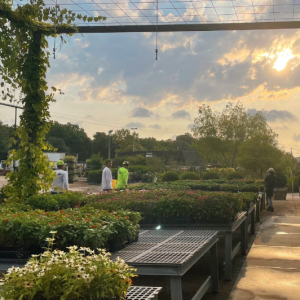 When you make your business a partner with us here at Newton Nurseries, you'll also be able to use our various locations to your advantage. Along with our locations in Houston and Austin, we also have a Katy nursery location that is becoming very popular with many local landscaping businesses. Business here at Newton Nurseries is so good that we are looking to soon expand into The Woodlands and Spring communities, giving you even more chances to use our services and grow your business. 
What makes our locations so successful is our use of technology to make the entire process easy. We are close to the job sites, so you don't need to drive far to pick up plant material, which ultimately saves you money. We have the fastest checkout process in the industry, so you can get right back to your job and not waste precious time. Right in the yard, our teams are ready to help you find specific products and load them, then you just come inside to pay, and you're ready to go. If you visit other wholesale nurseries, they add unnecessary steps, so you have to make the order inside first, pick them up and load them, and head back inside to pay. At Newton Nurseries, we value your time and have no intention of wasting it! 
If one thing we know is frustrating to many landscaping businesses, it's trying to work with a nursery that is always too slow or makes you wait, especially during the high seasons. Because of this, we at Newton Nurseries are always open Monday through Friday from 7 AM to 5 PM in high seasons and 4 PM in slow seasons. On Saturday, we're open from 7 AM until 12 PM, meaning you'll always be able to speak with us and get what you need when you need it most. 
Register With Us Today
Even in an economy that may at times feel very unsteady, landscaping businesses are often some of the most resilient in terms of staying profitable during tough times. As you visit us online today, you can register your business with us for free and start experiencing our numerous wholesale nursery services that will transform your business into one of the best landscaping companies in Texas. By taking advantage of this excellent business opportunity and utilizing our many services right away, your business will soon grow and expand across Lone Star State! Remember that we are ready and set to help grow your landscaping business profitably here at Newton Nurseries.